Add your review
LED Rainbow Silver
LED Rainbow Silver
The LED Rainbow Silver is compatible with UV and LED gels. Read more
Description
LED Rainbow Silver
The LED Rainbow Silver is a led light with a silver rainbow top. The bottom plate is removable and the light has various timers plus an automatic setting with motion sensor. 
Technical data:
UV LEDS: 24
Max. power: 48W
Nanometers: 365 + 450nm
Power supply: 100 / 240 V 50 / 60 HZ 1A
Measurements: 220 x 195 x 105mm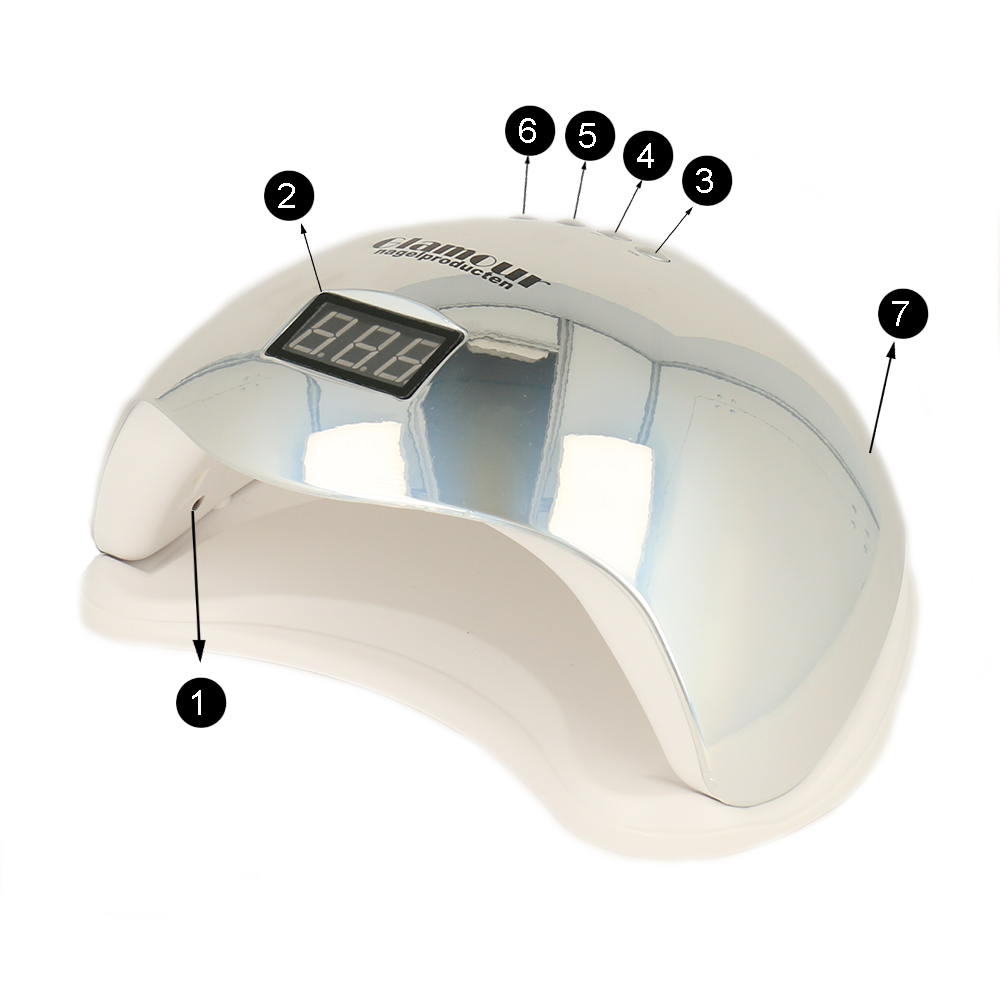 The LED
1. Infrared motion sensor
2. ON/OFF Indicator
3. Timebutton 10s
4. Timebutton 30s
5. Timebutton 60s
6. Low Heat mode (99s) / ON/OFF button
7. Power
Instruction:
1. Attach the power cord to the lamp and connect it to the power socket
2. Hold the On/Off button for 2 seconds to turn it on
3. When the LED starts counting down, press button again for standby mode
4. Pick curing time of 10S, 30S or 60S
5. You can also start without picking a curing time by holding your hand beneath the light. Due to the motion sensor the lights will come on automatically
Warning: don't let the LED light get in touch with water or other liquids and use the right amount of voltage.
Don't use the lamp when: you're in a damp space, the power supply is damaged, the cable is broken, the timer buttons don't work. The lamp can't be on for longer than 60 minutes at a time because it will decrease the lifespan of the lamp.
When noticing sudden changes in the color of your skin, immediately contact a doctor. The LED Rainbow Silver is meant for inside use. Keep out of reach from children.