Liquids
Are you looking for professional nail liquids to lift your nails to a higher level? We offer a wide arrangement of high quality acrylic liquids, primers and more to create nail extensions and keep your nails in great health.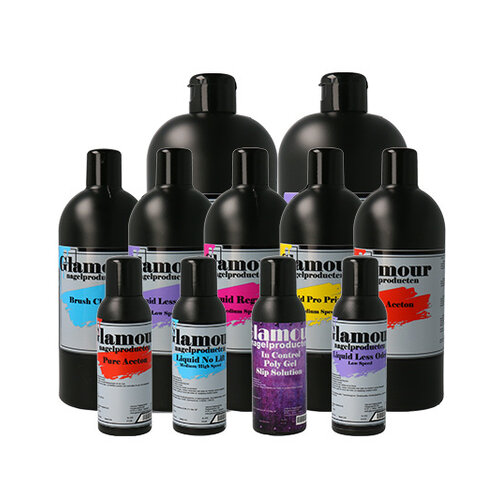 Liquids
Liquids
Are you looking for professional nail liquids to take your nails to the next level? We offer a wide range of high-quality liquids, primers, and other fluids that will help you create nail extensions and take care of your nails.
Acrylic liquids for durable and stylish nails
Our acrylic liquids are specially formulated for professional nail stylists aiming for durability and style. Made with high-quality ingredients, our acrylic liquids ensure seamless adhesion of acrylic powder to natural nails, allowing for long-lasting and sturdy nail extensions.
Acetone: the efficient way to remove gel and acrylic
Our high-quality pure acetone is an essential tool for removing nail polish quickly and effectively. The powerful formula penetrates multiple layers of nail polish, including stubborn glitter polish and gel polish, saving you time and effort in cleaning. With our acetone, you can remove nail polish without drying out your natural nails, keeping them healthy and strong.
What is a primer, and why is it important?
A nail primer is an essential tool in the nail extension process. It is used as the first layer before applying acrylic or gel products. The primer ensures strong adhesion between the natural nail and the artificial nail, preventing premature chipping. By using the right nail primer, you can be sure that your nail extensions and nail designs will last longer and look impeccable.
Remove the tacky layer with High Shine Wiping Solution
Easily remove the tacky layer from your topcoat with the High Shine Wiping Solution! Apply this liquid to a lint-free wipe and gently wipe it over the topcoat after curing. With our High Shine Wiping Solution, you can bring out the best in your nail art and offer your clients an unparalleled shine.
Nail art with Art Ink
Art Ink is a special nail ink designed to create detailed and vibrant designs on your nails. With its liquid consistency and intense pigmented colors, you can create beautiful marble patterns, flower designs, abstract artworks, and much more with Art Ink.